Football isn´t coming home. Not to this part of the world.
The Brazilian Team and its world class diva are on the plane back to S. America and their disgruntled millions of fans who are now as acclimatized to being let down by their team as they are to being let down by their politicians.
Speaking of whom…
Whilest the country was in football fever the Brazilian congress completely beholden to the agro industries is poised to approve legislation to now use more agritoxic products that ever.
This is in a country which since 2008 has topped world pesticide use including those banned in other nations .
In Rio de Janeiro last week full time Bishop and part time mayor Crivela met in secret in the dark of night at the governor's palace to promise his evangelical henchmen that they and their flocks could jump to the front of the queue for medical and dental treatment in the collapsing health system.
On a passing note The Inter-American Court of Human Rights condemned Brazil for its negligence in investigating, prosecuting, and punishing those guilty of torture and murder of journalist Vladimir Herzog in 1975, in the context of the country's military dictatorship.
This of course was nearly completely ignored by local main stream media.
The extraordinary persecution of Lula da Silva is only slowly being recognized in the world outside Brazil
Leading UK human rights barrister Geoffrey Robertson QC has taken Lula's case to the UN Human Rights Commission.
There is 'no evidence' that Lula is corrupt.
The same utterly corrupt parties that brought about the downfall of another ex president , Dilma Rousseff have lobbied hard for his conviction and imprisonment,
as have a portion of the armed forces and of couse the nebulous "news" organisation O'Globo whose TV arm presently reaches 99.5% of potential viewers, practically the entire Brazilian population.
The speed of Lula's conviction, which the right desperately want in order to prevent him standing in the forth coming elections can only be political ase polls have Lula leading the field at the moment, and many South American leaders have decried Lula's Condemnation as a blow to Brazilian Democracy.
Geoffrey Robertson said earlier this year that the 'extraordinarily aggressive measures' to put Lula in jail and stop him running for president were being used 'by the judiciary, by the media, by the great sinews of wealth and power in Brazil', and in january A group of 12 congressmen from the Democratic Party in the United States published a public letter in defense of former Brazilian president Luiz Inácio Lula da Silva, in which they accuse Judge Sergio Moro of persecuting him through the issuance of "arbitrary" decisions.
Lula's persecution represents a narrowing of Brazilian democracy with far-reaching consequences. For a growing number of Brazilians — both from the Left and from the Right — the political system lacks any legitimacy. A year ago the NYT commented on Brazil's broken Political leadership.
At the centre of the present maelstrom is Brazil's Judge Moro described as a crusader against corruption… or politics? and who is and no newcomer to controversy.
Let us return to 2006
Before he took office in 2002 the banks viewed the former trade unionist as a communist Beelzebub, now they praise him as a role model. His promotion to the darling of the financial markets is an irony of history: It was Lula of all people, the one-time bogey man of the International Monetary Fund, who paid back Brazil's debts.
Brazil based journalist Glenn Greenwald talks about the 'military coup' in process which he expands upon in this twitter thread.
A link heavy post where those far better informed and more erudite than myself amply set out part of the ongoing chaos that is Brazil.
No tanks on my street….. yet.
Brazil totters a step closer to the edge.
In an unprecidented act of interferance and intimidation General Eduardo Villas Bôas hinted at Military intervention if the ex President of Brazil, Luiz Inácio Lula da Silva, or known more commonly as Lula, was acquitted today by the Supreme Court.
This message was immediately parroted by William Bonner, anchorman for Globo TV.
Earlier yesterday, Army General Luiz Schroeder Lessa also made a widely circulated public statement, stating that if Lula was elected as president in October then there would be a military takeover of the country.
So South America reverts to form.
It is only 54 years, practically to the day that the last Military Coup happened in Brazil.
A responsible civilian government would have reprimanded the errant gereral immediately and sent him back to baracks indefinitely. However the usurper Temer and his clique are anything but responsible, being solely interested in their own welfare and staying out of jail.
Equally worrying was that General Villas Bôas' tweet was immediately taken up and congratulaed by General Freitas, comandante militar do oeste; and General Pinto Sampaio.
The Military are getting restless and want a voice in Politics. (Courtesy of Google translate).
At the start of the Military intervention in Rio de Janeiro just over a month ago Temer announced that this could be a trial for other cities. Maybe he meant the whole country in which case he has done a deal to get a Keep out of Jail card.
Just under two years ago in May 2016 Romero Juca, close to Temer, who when forced to resign because of a leaked tape about closing down the Petrobras investigation said I am talking to the generals, the military commanders. They are fine with this, they say they will guarantee it.
Brazilian government is totally venal and corrupt, as shown by a list from last May which named all except the ring master.
In fact over 100 serving politicians were under investigation.
Rio de Janeiro alone has two ex governors in jail so that's a start but there is a long way to go.
Meanwhile the country takes another step closer to the edge.
Every now and then you get gut punched.
Marielle Franco: Brazil's favelas mourn the death of a champion
[this post was started a week ago and has since been updated as more information comes out and many insighteful articles are written – some linked here]
City Councellor, activist, gay and inspiration for thousands of disadvantaged black kids, Marielle Franco, was executed together with her driver Anderson Pedro Gomes.
(For once some of the comments in the above link are worth reading)
I am so proud of my two young friends who helped decorate this wall
Belíssima homenagem à amada Marielle Franco no Estácio. Mari, você é semente, você é força, você é raça. Marielle vive! Anderson vive! <3

Posted by Marcelo Freixo on Saturday, March 17, 2018
This political assassination has caused great consternation, not only throughout the country, with spontaneous demonstrations in all major cities but also abroad. (Pt.)
The execution has been described as an attack on Democracy, which is a bit rich considering that since the dictatorship the favela communities have been excluded
and ignored. Indeed very few white middle class Brazilians have ever entered into one, preferring to pretend that that they are just areas where poor people and bandits live. As in America it is a social crime to be poor and black.
Marielle Franco's death has helped galvanise the left into a showing of solidarity not seen since the demonstations before the world cup.
The far right either did´t repond to this atrocity, (Jair Bolsonario's son deleted his tweet of semi condolence) or invented slander in an attempt to smear the
reputation of this remarkable and courageous woman. She was a marijuana smoker – who cares; she had a child at 16 , she was actually 19, she was married to a known gangster and drug traffiker – false. This rumor was being spread by Marilia Castro Neves, a Rio judge who is being sued (Pt)
Pictured in the article Marila is seen seated in first class or a private jet so many worlds away from the person she is slandering.
Marila in case anyone forgets is the magistrate that freed the infamous Raymond Whelan
Meanwhile the rabidly right wing MBL is trying to persuade people that the assassination of an activist politician is not a political event. Go figure.
The Intercept has a good round up of the frothing and bile (Pt).
It should be noted that Glenn Greenwald and David Miranda were both close friends of Marielle, and David had the sad duty of helping carry the casket of his friend and political companion.
Hopefully Greenwald and his team will continue to shine light on this murkey underworld that is corruption and crime not just in Rio but the rest of Brazil.
A country ranking 154 out of 190 with women in parliamentary positions.
1 in 6 of all human rights activists murdered globally are from Brazil and more than 20 leftist leaders have been assassinated in the last two years, black, white and indigenous. The Assassination of Human Rights Activist Marielle Franco Was a Huge Loss for Brazil — and the World.
As human rights watch states: The climate of near total impunity in Rio de Janeiro needs to end once and for all
Meanwhile the Elephant in the Room
Marielle's Assasination and Military Death Squad Tactics
There is little I can find written in Eglish about the penetration of the Militias into Rio de Janeiro which has more power than the drug traffickers (Pt)
Known Militia associates were seen (Pt) in the parlimentary building the same day as the execution. The Intercept seem to be one of the few publications running with this story because the militia political influences run deep and the repercussions tend to be terminal. Approximately 2 million people live in areas controlled by milícias.
The other is El Pais and a translated page follows:
Appointed as suspects for Marielle's execution, militias operate in Rio without being disturbed.
So this is the real challenge that faces General Walter Braga Netto, head of the Military intervention force in Rio. Whilest there are consumers there will always be drug trafficking but the parallel criminal state that is arising due to militias also needs to be ruthlessly quelled. It is an election year but many have openly called for the experiment now taking place in Rio de janeiro to be extended nationwide.
So just what the fuck is going on here right now?
As usual it is complicated.
The usurper Temer, unelected president of Brazil, hates Rio big time after a Carnaval where the Samba school Tuiuti depicted him as a corrupt vampire,

And this year's Sambodromo winners, Beija Flor was heavily against corruption
The Evangelist Mayor Crivella who abhors and loaths Carnaval decided to go to Europe ostensibly to look for means to assist the citizanery; since shown to be a huge fib.
Crivella by the way has avoided both Carnavals during his tenure. as well as slashing funding.
Law and order, the favorite of the Coxinas, shown to be puppets, is breaking down, with violence marring the biggest party in the world, not only in the suburbs as usual but also in the predominantly white, monied touristic Zona Sul.
So Temer sends in the military to take over. Not just as in the past during the Olympics but puts the army in charge of the City's police force, the first time Brazil has taken such a decision since it introduced a new constitution in 1988 following two decades of military dictatorship.
This may or may not be a good thing seeing as the police are definitely part of the problem.
One thing certain is that this cosmetic band aid will bring Temer lots of approval from the mainly white middle class in an election year where there are as yet no candidates.
Yes that is correct. Six months from election day. No Candidates.
Another certainty is that violence in the favelas will increase. There is also the risk of Mexicanization as poorly paid armed forces get involved in organized crime,
Many of the long suffering people who live in the favelas are already having a pretty grim time with constant gun battles between armed factions and the police.
Not all are innocent as is shown by this recent video of Bate-bola "Bad bois" shooting in the air with their fuzis. – How did they get those you may ask.
So yes there is a huge problem, but military intervention is probably not the answer just a wet dream for the ultra right who are also very vocal.
Meanwhile the Cariocas Let out their inner Chicken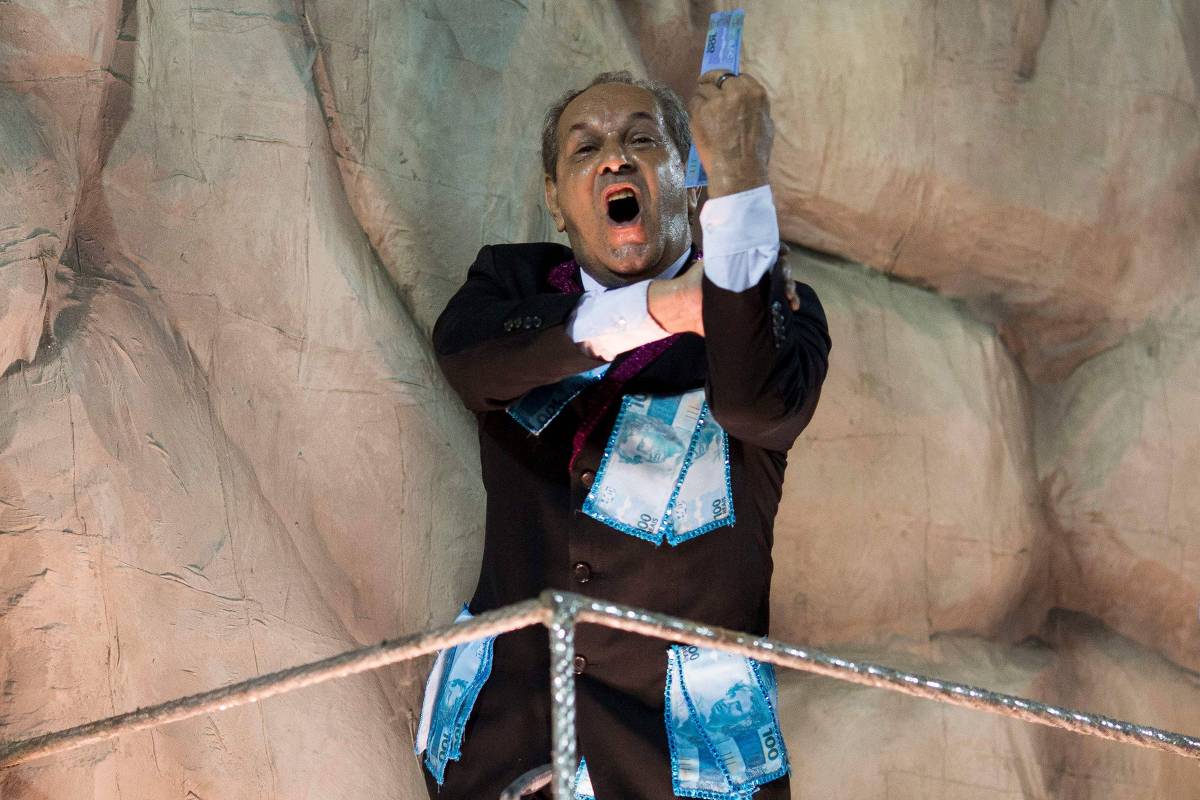 Here is hoping it doesn't happen.

The helicopter woke me about 0500 hrs. Thats not so unusual these days.
Helicopters passing overhead mean trouble.
But you live in a major city you may say. Aren't helicopters normal?
Correct but for the last 7 weeks the low intensity war in Rio de janeiro is not quuite so low intensity anymore.
Since the attempted take over by one criminal faction of another in the Rocinha favela, which is probably the most lucrative in terms of drug trade in the city, there has been daily police and military action.
How the police and armed forces allowed 200 – 300 armed followers of one of the factions to escape through the forested mountains is something the local media won't discuss. No big surprise there. The local media is only really interested in discussing futeball and telenovelas.
If the Brazilian army isn't trained for warfare in a forested environment what is it trained for?
Or is the theory correct that by leaving the bandits to fight another day the factions will wipe each other out, or at least seriously reduce their manpower.
Which leads to another problem: how are all the arms getting to the criminals and if you said via police and army you would be correct.
The resulting fall out has led to shootings in a further 15 or more favelas throughout the city.
Then there is the increasingly militant evangelicism, where some gang leaders state they are waging a holy war; in particular with attacks on afro-brazilian places of worship.
This is not being condemned by the church leaders, amongst them the present mayor of the city an evangelical Bishop.
Meanwhile the culture wars are also spreading with hysteria, homophobia and censorship of art, attacks on galleries and museums, and more generally on the creative and intellectual classes from a proto-fascist hate mob which although a small minority is gaining strength and visibility.
But hey the weather is warming up for summer and the girls are sashaying down the street so life can't be all that bad in the Cidade Maravilhosa.
Another Year; More Craziness. A letter from Rio
A year and bit since the corrupt circus called the Olympic games left town.
Athletes exploited for nationalism made a fortune for a corrupt few.
The legacy: –
Rio de Janeiro city bankrupt.
The ex Governor and several of his henchmen are in jail. This is new. Corruption and theft of public monies is now a punishable crime; sometimes.
Rotting, wasting white elephant olympic infrastructure sites.
Crime level escalating. There is an App for that!
Full blown civil war beween rival gangs and Milicia and Police and Army with much overlapping rages throughout the suburbs of Zona Norte, Zona Oeste and Nieroi and São Gonzalo. The armyhas been drafted in again to try and keep it all under control. Tanks in Complexo de Maré.
Guanabara bay, to the shame of the international sailing community who did zilch, is still a stinking fetid mass. Priscila Pereira, an investigative journalist was murdered; the case unsolved, forgotten, ignored.
Is there light at the end of this recession? maybe. It's been long and hard slog. Numerous small business have closed and the larger corporations all "downsized" with sickening brutality and insensitivity. I notice small construction is beginning again in sites that have been boarded up for the last couple of years.
Mind you this is in the cosseted Zona Sul.
What happens in Zona Norte, I don´t know and seldom venture there, I don't like it. The vibe is hostile, I feel insecure. At least here in Botafogo I can walk the 10 minutes home at 2200 hours without feeling fear.
Our present Evangelical bishop and mayor Marcelo Crivella hates the gays and carnaval but says he has an empathy with African religions; he went there as a missioary for fucks sake. He has publically claimed that Evolution is still a theory.
There has recently been an outbreak of vandalism and terror and wanton destruction (link in Portuguese) of Umbanda and Candomble temples, with practicants being expelled from favelas by evangelical Militia leaders. Yes you read that correctly. Where are the Police in all this?. Well several are in the Milicias.
So why might you very well ask do I live here?
To which I answer that for all it's faults, and they are legion, that this is the most vibrant place I have ever lived, and I wish to continue to do so. The People especially the young are getting more educated and interconnected with one of the worlds deepest penetrations of social media. Alternative news is drawing thousands away from the monopolies who lie, distort or just plainly ignore what happens, while portraying their very white bubble view of middle class and privilege.
South America´s largest popular music festival Rock in Rio kicked off on Friday night with Gisele Bündchen and Ivete Sangalo with the crowd cheering her with loud cries of FORA TEMER as she called for the Amazon to stay a wilderness.
Just in case you might have forgotten Brazilian President Michel Temer was charged with taking multimillion-dollar bribesand then tried to buy off the legislature by abolishing a huge Amazon reserve in the 'biggest attack' in 50 years. This was later rescinded in court but only after the corruption charges were dropped. So he is still President for now.
There are the joys of Elections in 2018 to come and at present Rio's most popular candidate by a large margin is the fascist Jair Bolsonario.
We certainly live in interesting times.
So we are one week into the circus.
Primeiro Fora Temer.
Apart from queues caused by poor planning I think the tourists are probably having a good time.
The event localities are very spread out so it is a marathon on its own to get around to them.
Then there is Praça Maua and the Olympic Boulevard which is Party central and packed every evening.
Meanwhile it is the continuing story of the tale of Two Cities.
Part of the favela of Mare which lies along the highway to the Airport is in a state of Civil War with shock troops going in big time after one of their own made a bad turn off the major road and ended up in the favela. He was shot and died in hospital. The Força National was quick to avenge their comrade.
Nothing subtle, straight warfare with the bandits.
The app Fogo Cruzado (Hat tip Catherine Osborn) indicates that during the first week of these Olympics, there were at least 59 shootings and shootouts in the greater Rio area.
That's an average of 8.4 per day, almost double that of the previous week. 34 people were wounded, of which 14 died: 11 civilians and 3 security agents.
An average 4.8 people were wounded per day.
So while Zona Sul is relatively crime free the low level intensity war goes on in the suburbs.
Assaults continue with the US swimmer Ryan Lochte having his taxi stopped leaving a party at the French House in Lagoa, by two policeman or people in police uniform and robbed at gunpoint. The idiot Minister of Sport Leonardo Picciani showing how au fait he is with the situation stated that it was the swimmers own fault and that he was at the wrong place at the wrong time Lagoa is supposed to be one of the upmarket safe parts of the City.
This also shows the total calibre or lack of it in the cabinet of the Temer ascendency.
Felipe Dana a local Carioca photographer made this short video showing the other side of Rio life.

Mario Tama of Getty Images took this iconic picture of the opening ceremony fireworks from the top of the Mangueira favela.


which clearly shows the divide between those who can afford and those who cannot.
"The world needs to know — I am here watching this spectacle from a slum right next to where they are opening the Olympics, and my life has not improved at all," said Jose Carmo, a 23-year-old construction worker who lives in Mangueira. "It is frustrating to be so close to this spectacle and yet so far away, living in a place were we have no security, not even sewage".
Ticket prices for the opening ceremony ranged from about US$63 to US$1,400.
A minimum-wage worker in Brazil takes home about US$55 a week.
And the average Carioca? How is their life.?
Whilest Praça Maua and the Olympic Boulevard are Party Central and are free; well entry and entertainment are free. Refreshment not so much. Skol owned by Ambev and thus by Brazil´s forbes list Billionaires of Carlos Alberto Sicupira, Jorge Paulo Lemann, and Marcel Herrmann Telles, together with Coca Cola share the monopoly of drink supplies which are being sold at least at twice or maybe three times the normal street vendor value.
The street vendors of course are barred.
"The poor, we don't really get to experience the Olympics. We are close in distance, but far away," said Luiz Alberto Araujo, a 30-year-old doorman who works in Ipanema but lives in the slums. "We still have fun, but this party is for foreigners, for the rich."
Meanwhile in the Favelas, Hoped-For Benefits From Olympics Have Yet To Materialize.
So we are now into countdown. Welcome to Rio?
In 30 days one of the worlds most corrupt organizations the Olympic Games comes to one of the most corrupt countries in the world and in particular Rio de Janeiro – Cidade Maravilhosa where I have the good fortune to live in the residential area of Botafogo, away from the beaches but still in the privileged Zona Sul.
I say away from the Beaches; by that I mean the Atlantic beaches which are over the hill or through the tunnel which is faster and easier and definitely safer.
Botafogo has a beach or praia as does our neighbour Flamengo, which has just been zoned out of Zona Sul and into Centro. Minutae. The water off these beaches are toxic so even the most diehard locals don´t indulge. The new Olympic sport of sailing in shit will take place in this sewer.
So you might wonder how´s it all going? The Olympic torch is being trotted around the country; someone tried chucking a bucket of water at it without success.
The Army in Manaus completely disgraced themselves by shooting and killing Juma a Jaguar which was paraded at the Olympic Torch Ceremony.
A smiling jaguar known as Ginga is the mascot for the Brazilian Olympic team so this might well be prescient seeing the state of politics here.
Photo Credit: the reknowned wildlife photographer Araquém Alcântara who is so disgusted that he has started a petition to protest this.
In many ways this shameful incident sums a lot of things up. Lots of show. No responsibilty and no fucks given.
So what really goes down in Rio de Janeiro? Is it as bad as all these things I read? Short answer Yes probably No. Unless you are poor and black in which case the answer is neither, it´s probably worse. As the city is being taken over an 85,000 strong secutity force the chances are that the gringoes won´t feel much pain apart from the inflated prices which they won´t notice and the traffic gridlock which is a feature not a bug. The holes in the road are an extra. Copacabana, Ipanema, Leblon are all being sanitized. The tourists probably won´t even see a street dweller let alone his dog. (Greenwald wrote a very poignent article about How Dogs Forge a Bond with Rio's Homeless That Is Life-Saving for Both)
Zona Norte and Zona Oeste are a whole different city.
This is Mare yesterday, a favela consisting of 17 communities which lies along the main drag to the Airport.

Photo Credit: Carlos Cout, war photographer. That´s right Rio de Janeiro has war photographers.
Brazil has the world's ninth largest economy by nominal GDP, and the seventh largest by purchasing power parity. The city of Rio de Janeiro, has the second largest municipal GDP in the country with a population around 6,000,000 but has huge contrasts between the over 1000 favelas and the gated communities of Barra.
The police are part of the problem and not part of the solution. They are poorly paid, poorly trained, poorly equipped apart from weaponry.
According to many experts the Rio Olympics are going to be a complete disaster for human rights.
And what are the politicians and administrators up to? This story from a couple of years ago sums it up: –
The statue of the poet Carlos Drummond de Andrade on Copacabana beach was vandalized with spray-paint. The government asked for bids to clean it. The lowest came in at 25,000 Reals (then about $11,000). This was accepted, but before the experts arrived to do the job, a man came along with a can of paint-thinner and a rag and cleaned it in under an hour, for nothing.
But for now I would not live anywhere else.
Be careful about what you wish for….
That the little Engerlanders have won has left me reeling. But why am I surprised? It is this narrow minded, xenophobic, racist arrogant superiority which encouraged me to leave in the first place. Having said that I am sure that not all the Brexiters are not vile xenophobic racists but those who have serious problems with the way the EU operates, but the electioneering was that of Fear.
I think I am most saddened for the young. ….the younger generation has lost the right to live and work in 27 other countries. We will never know the extent of the lost opportunities, friendships, marriages, and experiences we will be denied.
This video from a young woman who voted to remain sums up her fear and frustration and disgust (Lots of background noise) with great clarity. Her figure of over 75 was a little off. Here is the data.
The over 44´s scuppered the chances of their juniors. The spoilt, have it all baby boomer generation and their parents have decided to relegate Engerland to being a theme park on the North West corner of Europe fronted up by the aging Brenda and shortly to be suceeded by Big Ears.
I say England because Nicola Stugeon, first minister of Scotland has made it abundantly clear that the she will press to action the mandate given to her by the Scottish people who voted by a clear majority to stay with Europe.
So in one swoop the isolated and privileged Bullingdon Bullies together with the help of the British Fascist-lite and racist society have managed not only to implode the United Kingdom but severely shaken the pillars of a community which has ensured 70 years of peace in our times.
What is more frightening is that there is no plan and nature as has oft been said abhors a Vacuum. Dangerous times indeed.
Are we arriving at Weimar Britain? With the OUTS shouting their freedom messages backed up with lies and half truths when the reality is that they have in store isolation and the withdrawal from all international attachments so that they can pursue nationalistic and racist social and immigration policies.
The financial fallout is already Spectacular. Will the financial sector now leave the City of London
The area breakdown of IN vs OUT tells it´s own story.
De Spiegel summed it up thus: A relatively small, relatively unknown group of activists, gamblers and egocentrics managed to incite and drive a country out of Europe against the will of the prime minister and against the advice of economists, friends and allies around the world.
Yanis Varoufakis knows probably more about the sharp end of exits than most.
Leave won because too many British voters identified the EU with authoritarianism, irrationality and contempt for parliamentary democracy while too few believed those of us who claimed that another EU was possible.
whilest others think that as Brexit wins an illusion dies. The people of Britain are very ill served by their political leaders accross the spectrum.
Meanwhile the harsh reality. Wolfgang Schäuble has already stated that there will be no free market access for Britain or what remains of it. As might be expected Euroipe is not exactly happy.
As to the future who knows. There is no map. I can´t see the European leaders having anything to do with the Engineers of this disaster. Cameron is as good as gone and Osborne his lickspittle will soon follow, and I can´t see them playing nice with Boris so hopefully that ultimate shit will also be history together with his awful chum Mr Grove.
Unfortunately however much they wish to ignore him it is the chancer Nigel Farage leader of UKIP the fascist-lite party who is the only winner in this fiasco.
What marches to the same tune are a frightening coalition of the European hard right.
Weimar, dark days indeed, or are we just watching a very nasty episode of Diplomacy in action.